S.P.A. Sustainable · Pets · Arts - Event
Get ready for the first-of-its-kind eco-friendly extravaganza! Mark your calendars for 30 June, 1 & 2 July, and join us at South Beach Avenue for S.P.A. (Sustainable · Pets · Arts) event!
In support of the International Plastic-Free July campaign, we're all about making positive impact on our planet and our furry friends. This event is not your ordinary pop-up; it's a celebration of sustainability, pets, and creativity all rolled into one!

Come strolled down our vibrant marketplace with over 20 vendors showcasing a wide range of sustainable products for you and your pets. From eco-friendly pets clothes, toys to organic treats, you'll find everything you need to promote your four-legged companion to become an eco-champion.

But that's not all! We've line-up a series of green activities and hands-on workshops that will keep you and your pets engaged in eco-crafts. Fuse with tons of paw-sivity, our curated Art activities is specially designed for pets and their owners to enhance their mental well-being while having a blast.

So don't miss out on this fantastic opportunity to have a blast while championing sustainability and supporting your pet's mental health. Join us at S.P.A. (Sustainable · Pets · Arts) event and let's create a world where pets and the planet thrive together!

🗓️ Date & Time:
30 June (Fri) 3pm - 7pm
1 - 2 July (Sat & Sun) 12pm - 4pm
📍Location:
South Beach Avenue, 26 Beach Road, S(189768)
(Near to Lady M & Harry's Bar)

Get ready to have a howling good time! Admission is FREE.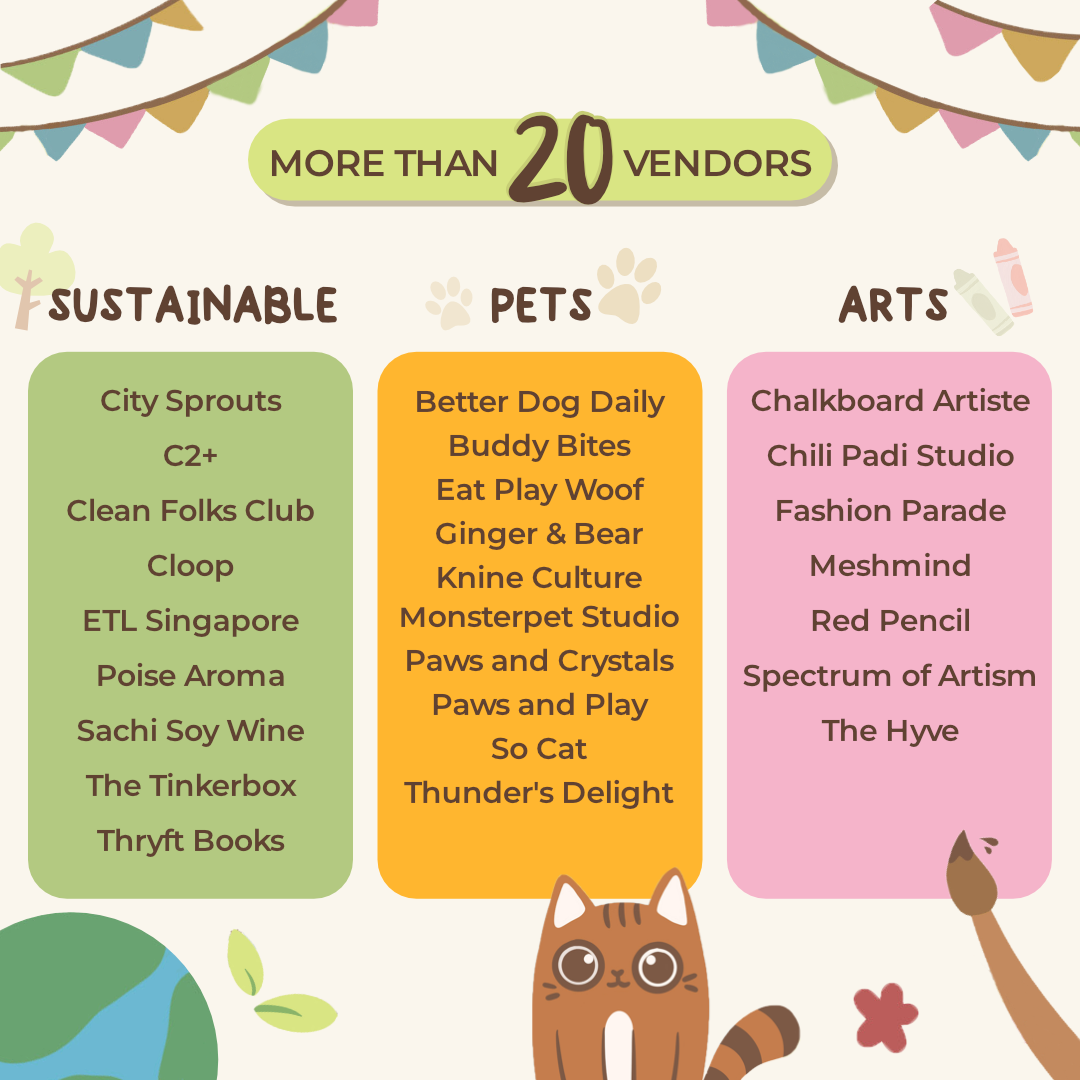 Other activities at S.P.A. Sustainable Pets Art Event
View all
Refund Policy

A minimum number of participants is required to proceed with the session. A full refund will be provided if the minimum number is not reached. Credit for the value of your ticket will be issued in the form of a coupon for any other reasons.

PDPA Notice

Please note that photos and videos may be taken during activities for the purpose of use on social media,  in e-newsletters and on our website. All media will not be used for commercial purposes, or in any manner that would exploit or cause malicious representation.

Indemnity Notice

As a participant, you acknowledge and waive all liabilities and claims on the following:
· Risks of injury from the activity.
· Risks that may arise as a result of an encounter with the presence of animals & plants.
· Heat related injuries and illness including but not limited to heat exhaustion, sunburn and dehydration.