Blast To The Past
Regular price
Sale price
$0.00 SGD
Unit price
per
Sale
Sold out
Reignite the kampong spirit with your family and friends. Come close to nature, forage for edible plants, spot the kampong chickens running around, and catch spiders and other bugs! Play fun traditional games, and enjoy snacks like kueh-kueh and kacang puteh or quench your thirst with the all-time favourite coconut. Enjoy a weekend of nostalgia!

Date: Saturday 21, Sunday 22 May 2022
Time: 9am to 12pm
Location: City Sprouts, 102 Henderson Road, Singapore 159562
Free Admission.
Coupons are available at the door for participating activities and snacks.
Share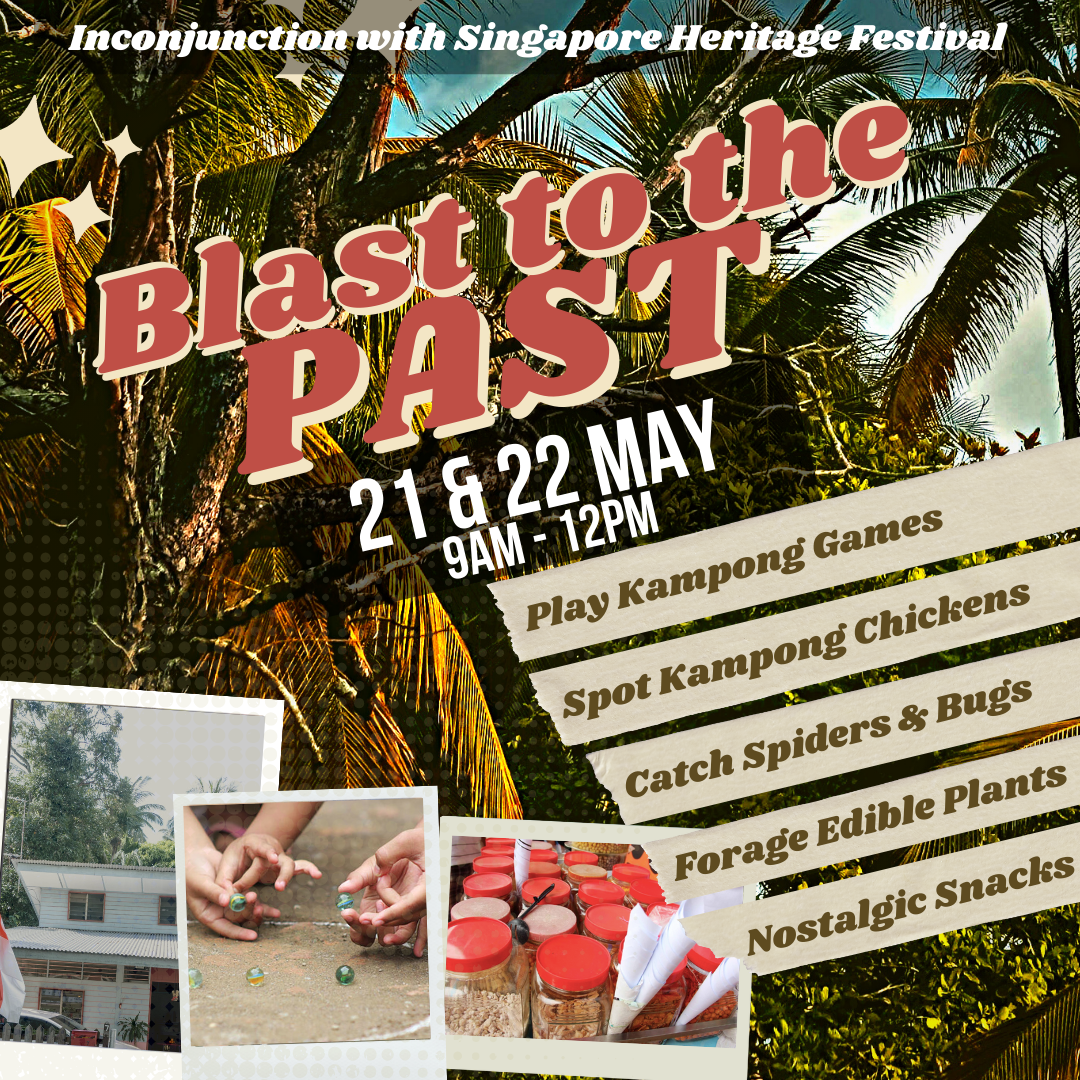 $12 Coupon Album can use for
Activities

$2 coupon for Kampong Games - Capteh
$2 coupon for Kampong Games - Congkak
$2 coupon for Kampong Games - Five Stone
$2 coupon for Kampong Games - Marble/Goli
$2 coupon for Kampong Games - Jump Rope Zero Point
$12 coupons for Foraging Edible Plants
$12 coupons for Foraging Kampong Bugs
Nostalgic Snacks

$4 coupons for Box of 3 Kuehs
$2 coupon for Kacang Putih
$4 coupons for Coconut Juice
Free admission entitles you to
Tour Farm Plots

2 Straw Hats Greenhouse (to be confirm)
All-in-veggie Greenhouse (to be confirm)
Corridor Farmers (to be confirm)
The Huddle SG Greenhouse (to be confirm)
Fish Plant & Stuff Greenhouse (to be confirm)
Vegeteddy Greenhouse (to be confirm)

Refund Policy

A minimum number participants is required to proceed with the session. Full refund will be provided if minimum number is not reached. Credit for the value of your ticket will be issued in the form of a coupon for any other reasons.

PDPA Notice

Please note that photos and videos may be taken during activities for the purpose of social media, e-newsletter and website. All photos taken will not be use in any commercial purposes, or in any manner that would exploit or cause malicious representation. If you do not wish to have your pictures or videos taken, please approach our friendly photographer.

Indemnity Notice

As a participant, you acknowledge and waive all liabilities and claims on the following:
· Risks of injury from the activity.
· Risks that may arise as a result of an encounter with the presence of animals & plants.
· Heat related injuries and illness including but not limited to heat exhaustion, sunburn and dehydration.