Kids Holiday Camp | End of Year Special
Explore and discover the world beyond the limitations of an indoor classroom and step foot into the realm of the untamed wilderness! Let your child experience nature like never before and be equipped with crucial life skills and expert knowledge that will make a significant impact on their learning journey. 
Gear up for an thrilling End of Year Edition Special this November & December holidays, where you get to take your pick from not one, but THREE pulse-pounding adventures where your kids will embark on an exhilarating journey!

Choose From 3 Different Camps:
Amber Adventure @ Henderson  [SOLD OUT]
22 to 24 Nov 2023, Weds to Fri
8am to 12:30pm
City Sprouts @ Henderson | 102 Henderson Road, S159562
Cloud Quest @ Bukit Timah [SOLD OUT]
27 to 29 Nov 2023, Mon to Wed
8am to 12:30pm
Sky Sprouts @ Bukit Timah | 896 Dunearn Rd

Island Escapade @ Punggol 
13 Dec to 15 Dec 2023, Weds to Fri
8am to 12:30pm
City Sprouts @ Punggol | 50 Punggol East, S828824
For all our camps, kid get to learn:
🌱 Nature Explorations & Local Biodiversity: Our camp is all about fostering a love for the outdoors, nature and wildlife. We'll embark on thrilling nature walks and hikes through our nature parks and beaches. Kids will become skilled nature detectives, honing their ability to spot local wildlife and uncover the secrets of our diverse plant life. They'll gain a firsthand understanding of our delicate ecological balance and the importance of conservation.
🍄 Sensory Learning: We believe in harnessing the power of nature to engage all of your child's senses- auditory, visual and kinetic for a truly immerse learning. Through a variety of carefully designed activities, your children will have the opportunity to embrace the natural world around them. As they embark on this journey, they'll not only learn about the wonders of nature but also cultivate mindfulness of their environment, all white having an absolute blast outdoors.
🌈 Team-Building Games: Our camp emphasizes teamwork and collaboration. We'll engage in exciting outdoor games that promote cooperation, communication, and problem-solving skills, fostering a strong sense of community and friendship among the campers.
At our Kids Holiday Adventure Camps, we will ensure:
- A 3:1 Kids to Instructor Ratio allowing for lots of individual attention and care.
- Your child is provided with various opportunities to connect and interact with nature and their peers.
- Experienced, professional and knowledgeable instructors to assist your kids.
Grab our BUNDLE PROMOS! (Discount will apply automatically at checkout)
Pair Bundle - Up to $80 worth of savings

Regular price
$290.00 SGD
Regular price
Sale price
$290.00 SGD
Unit price
per
Sale
Sold out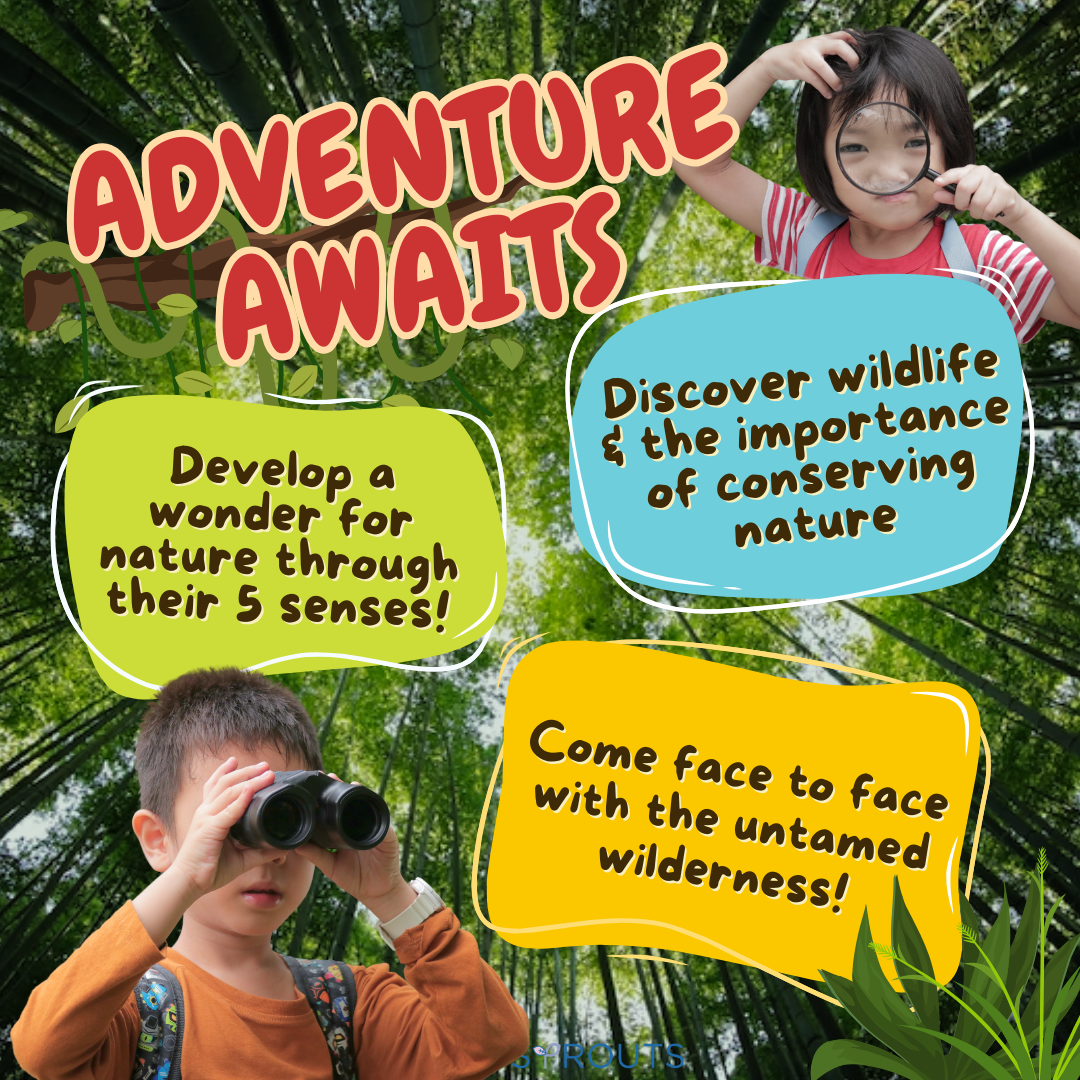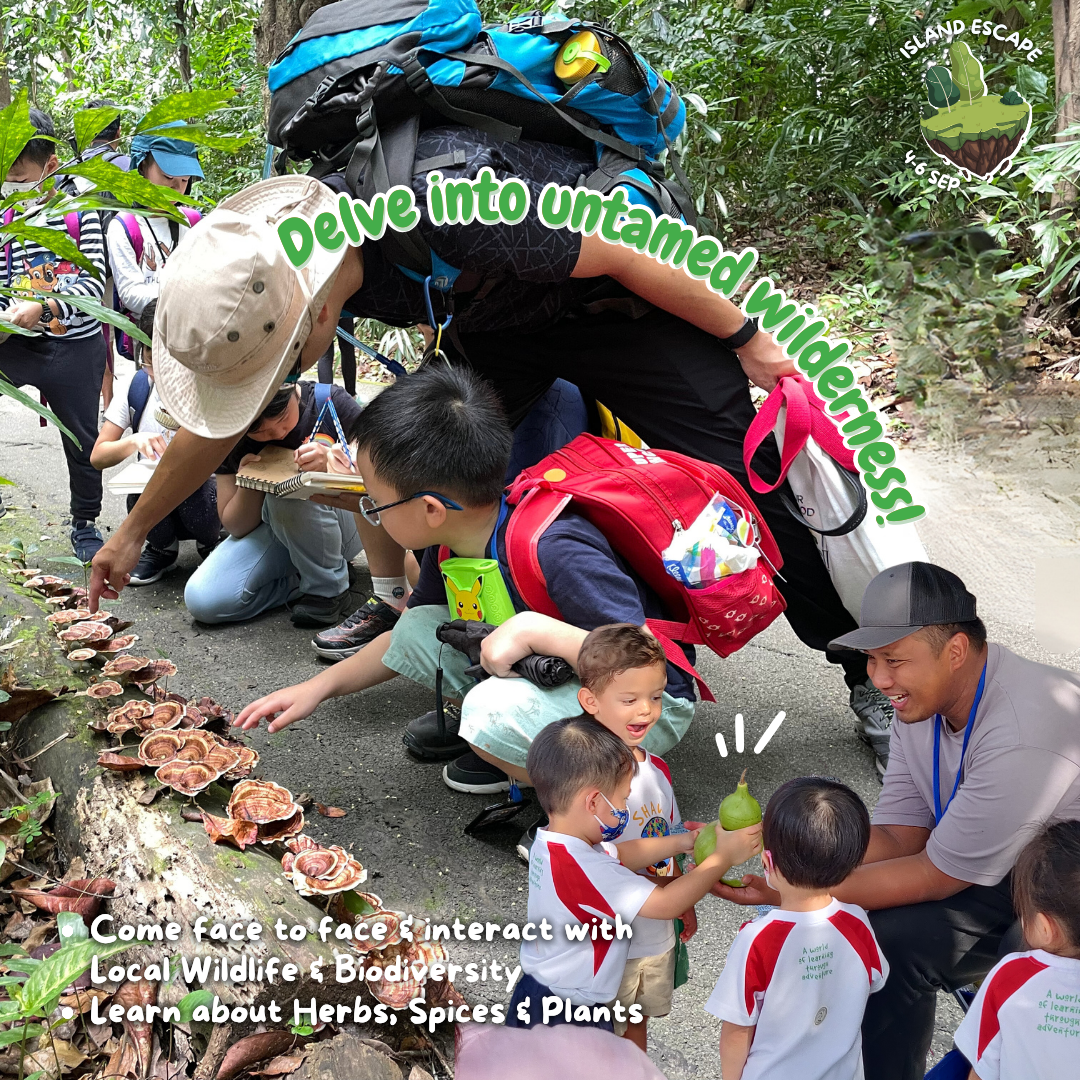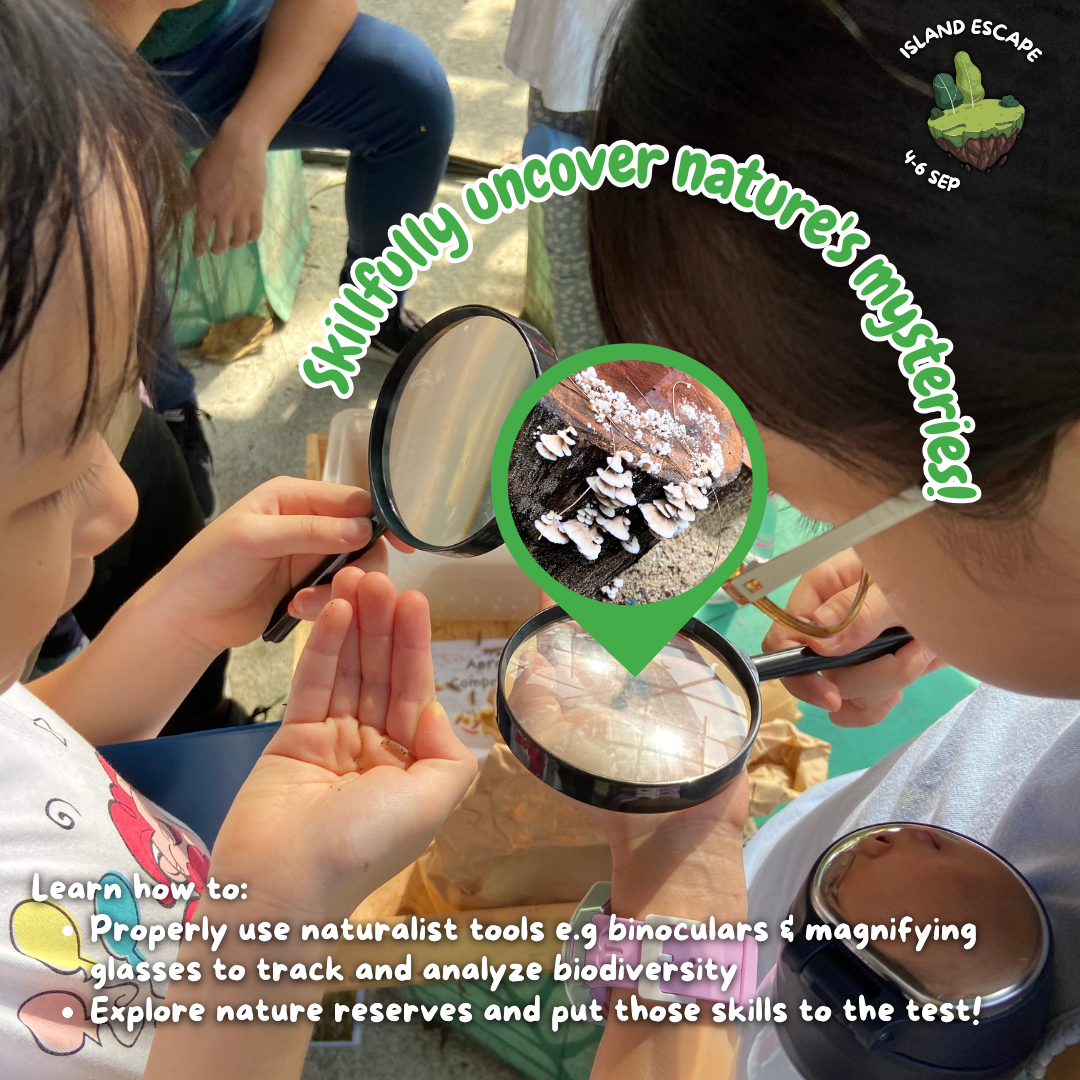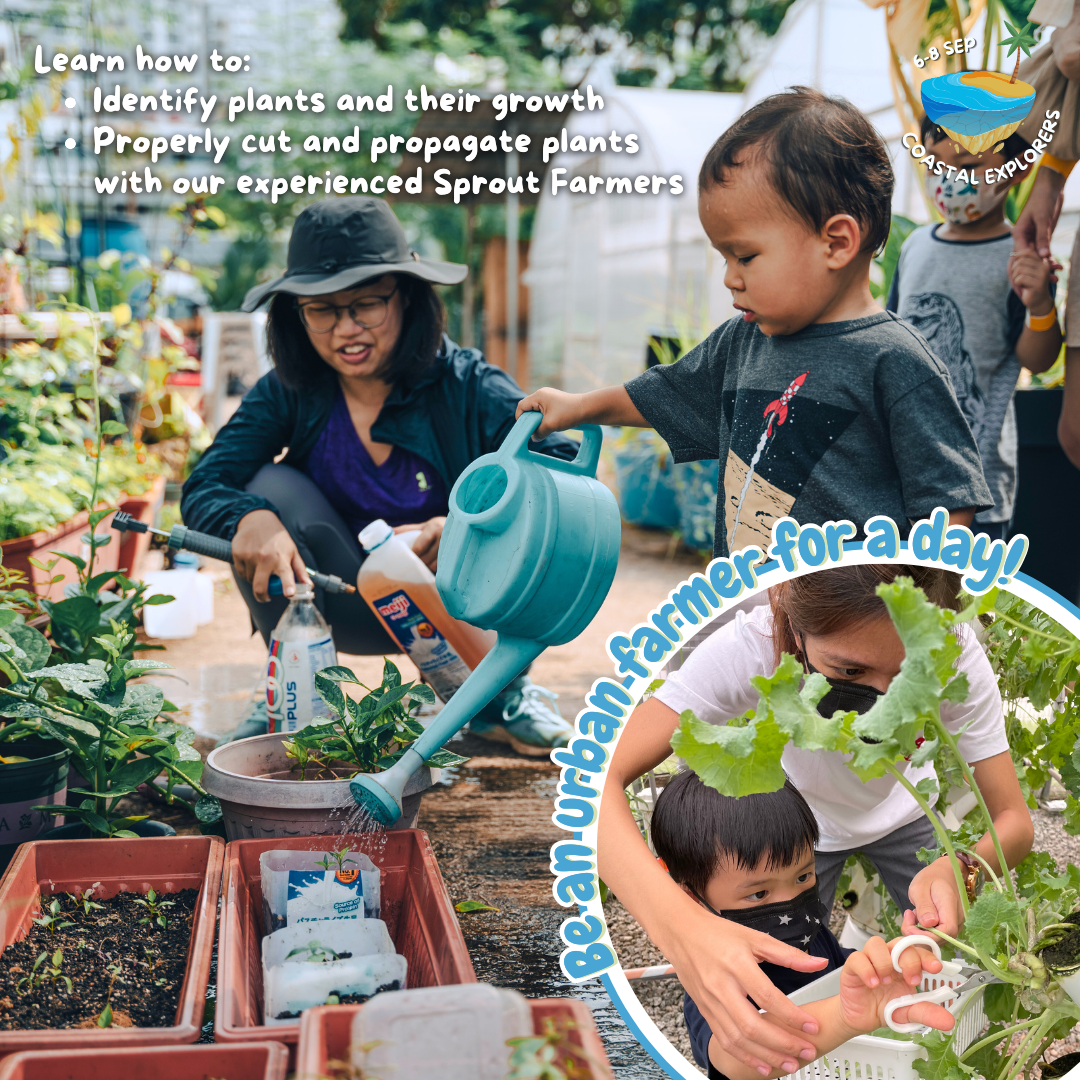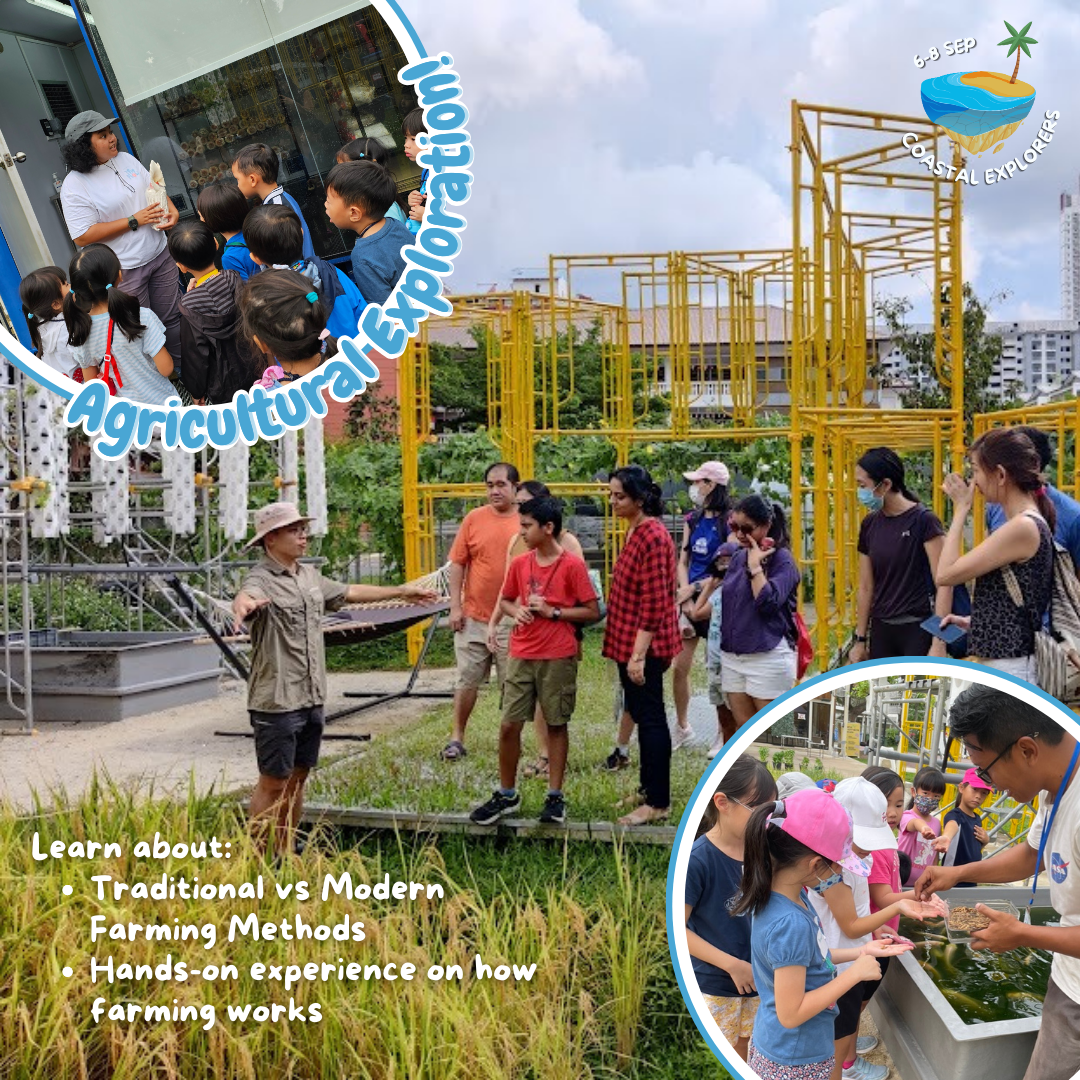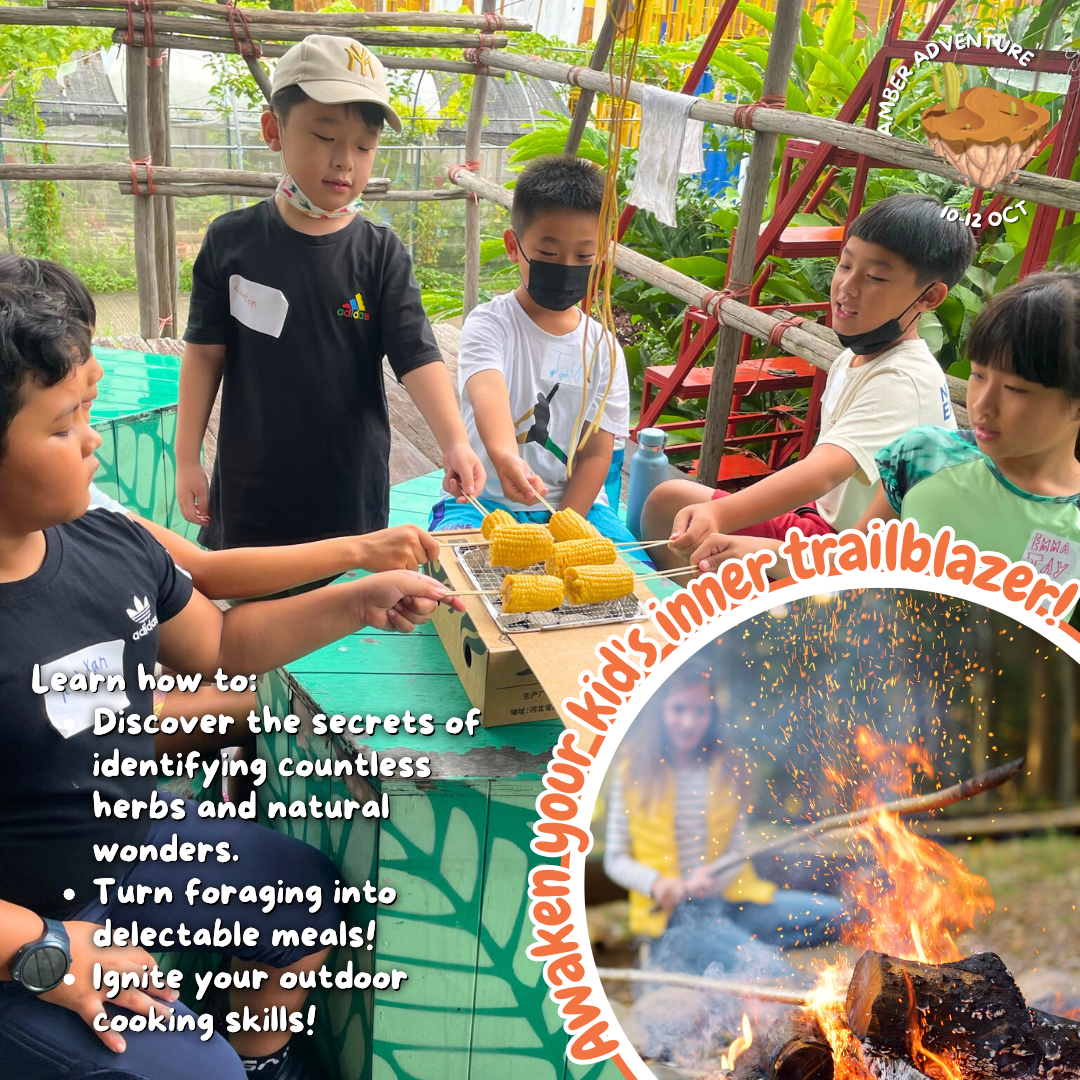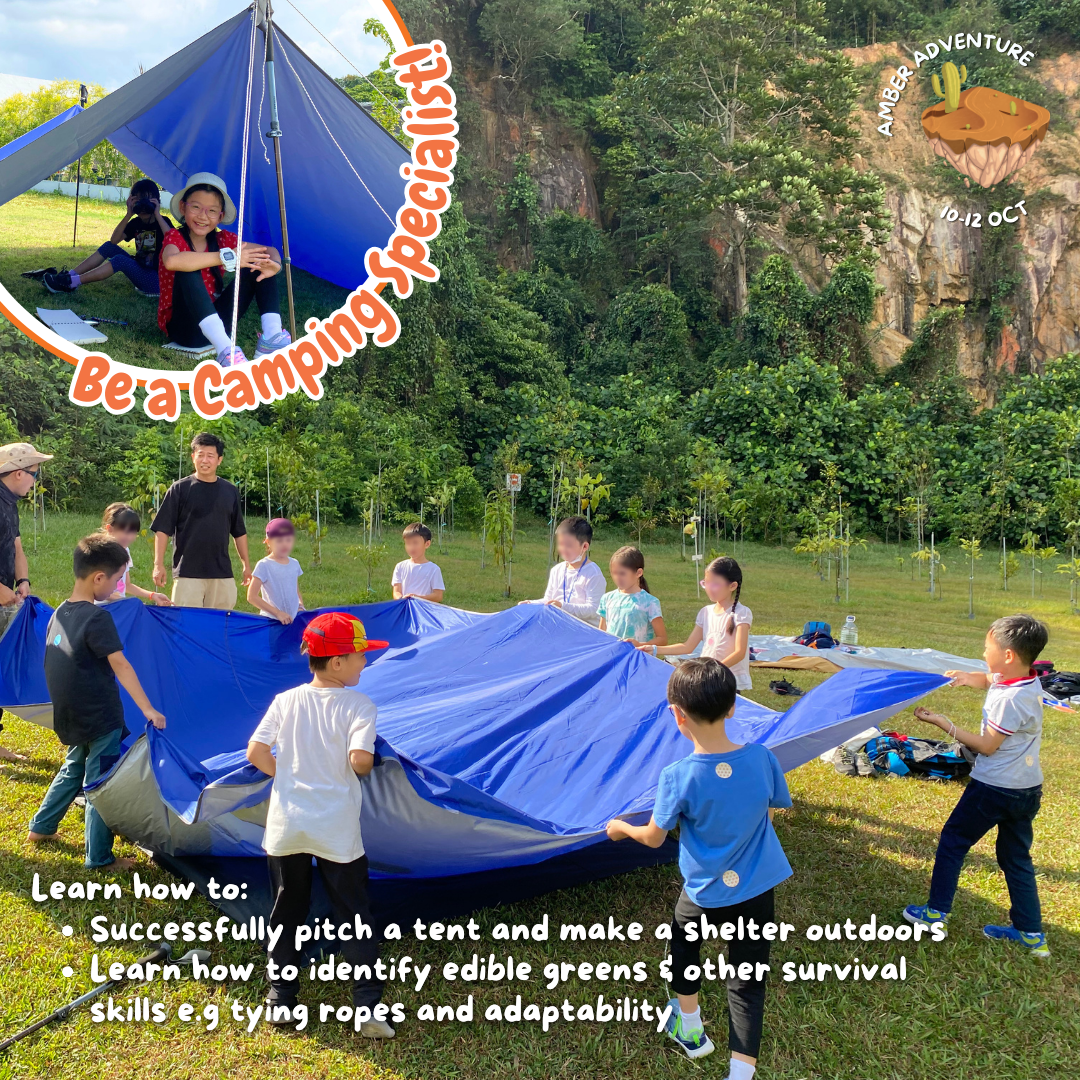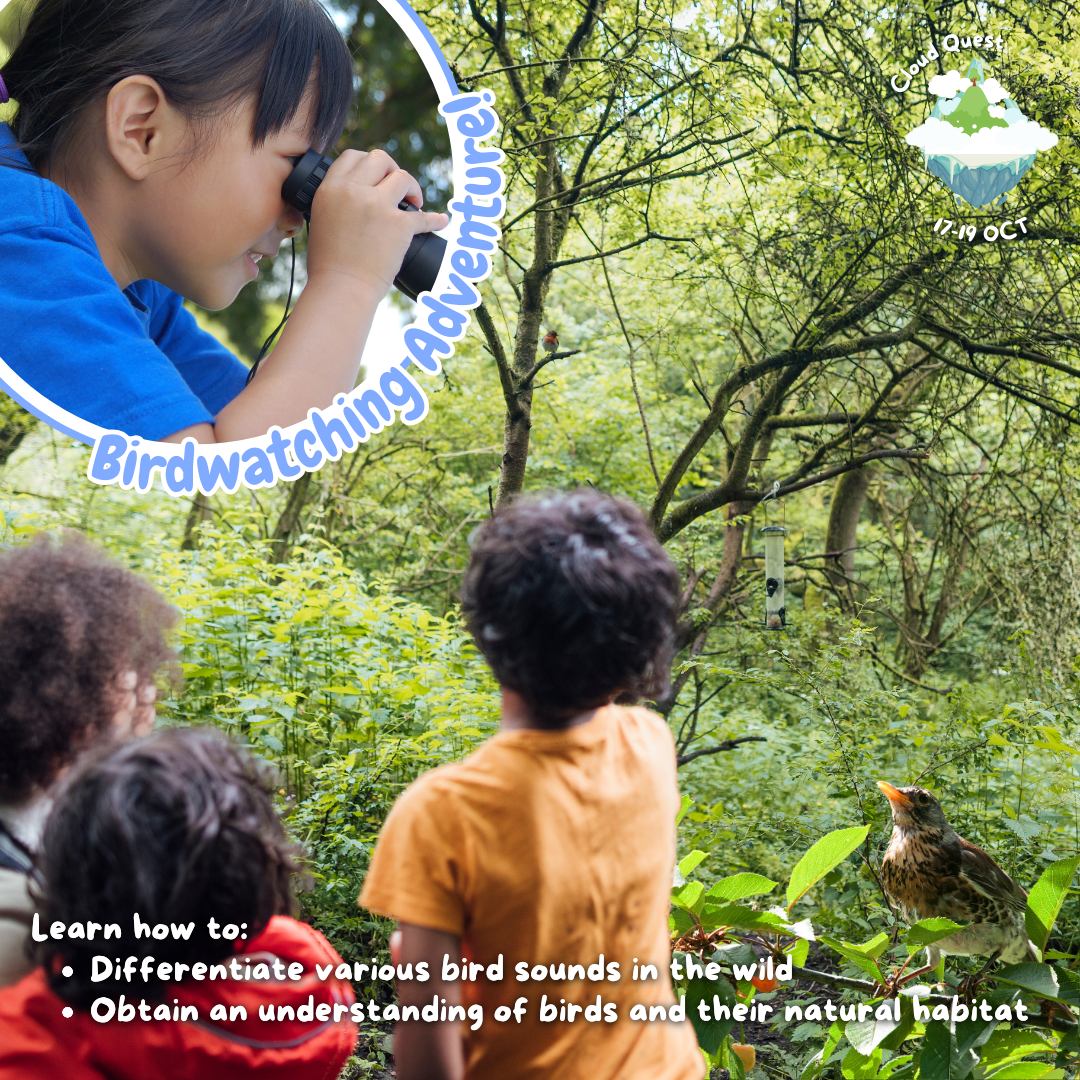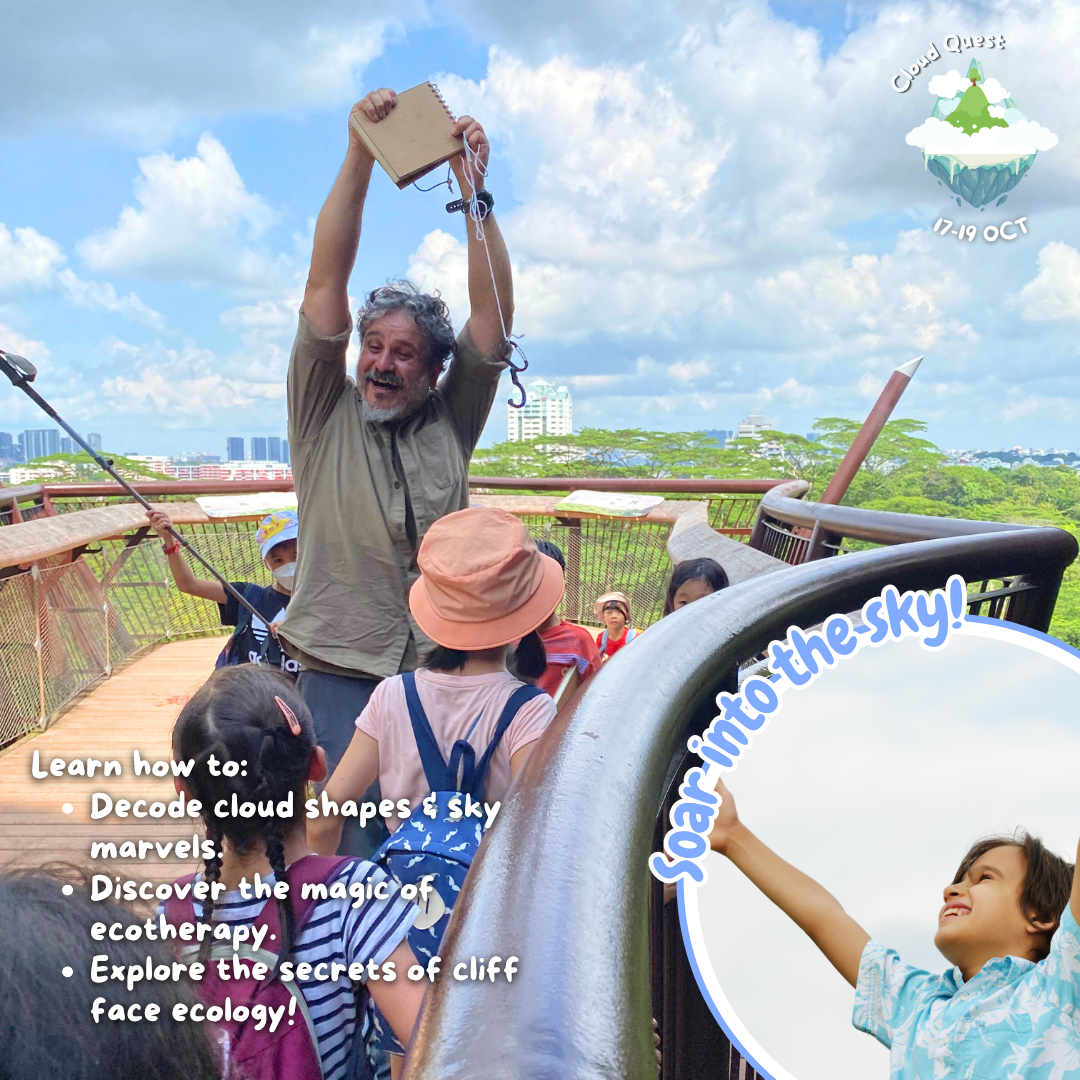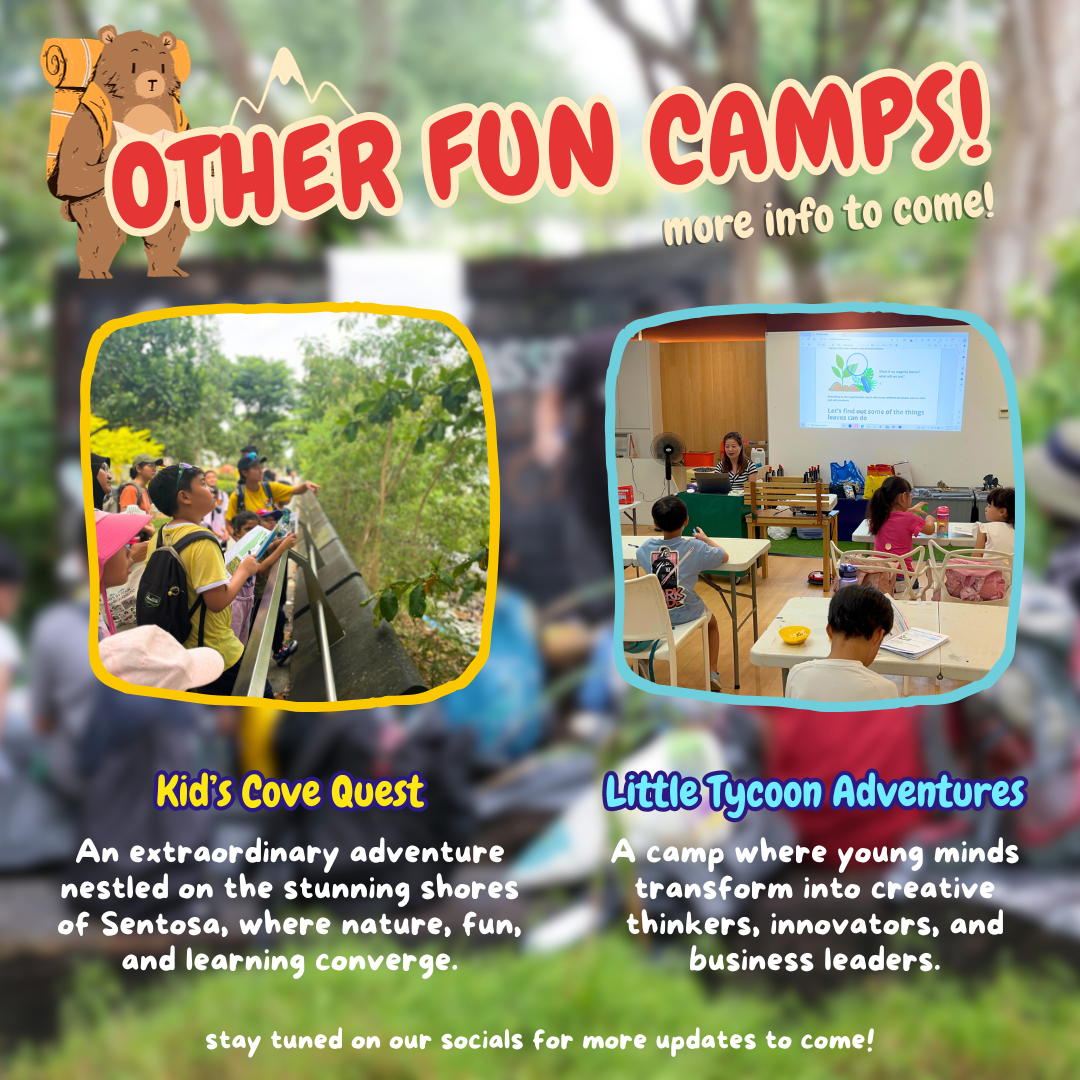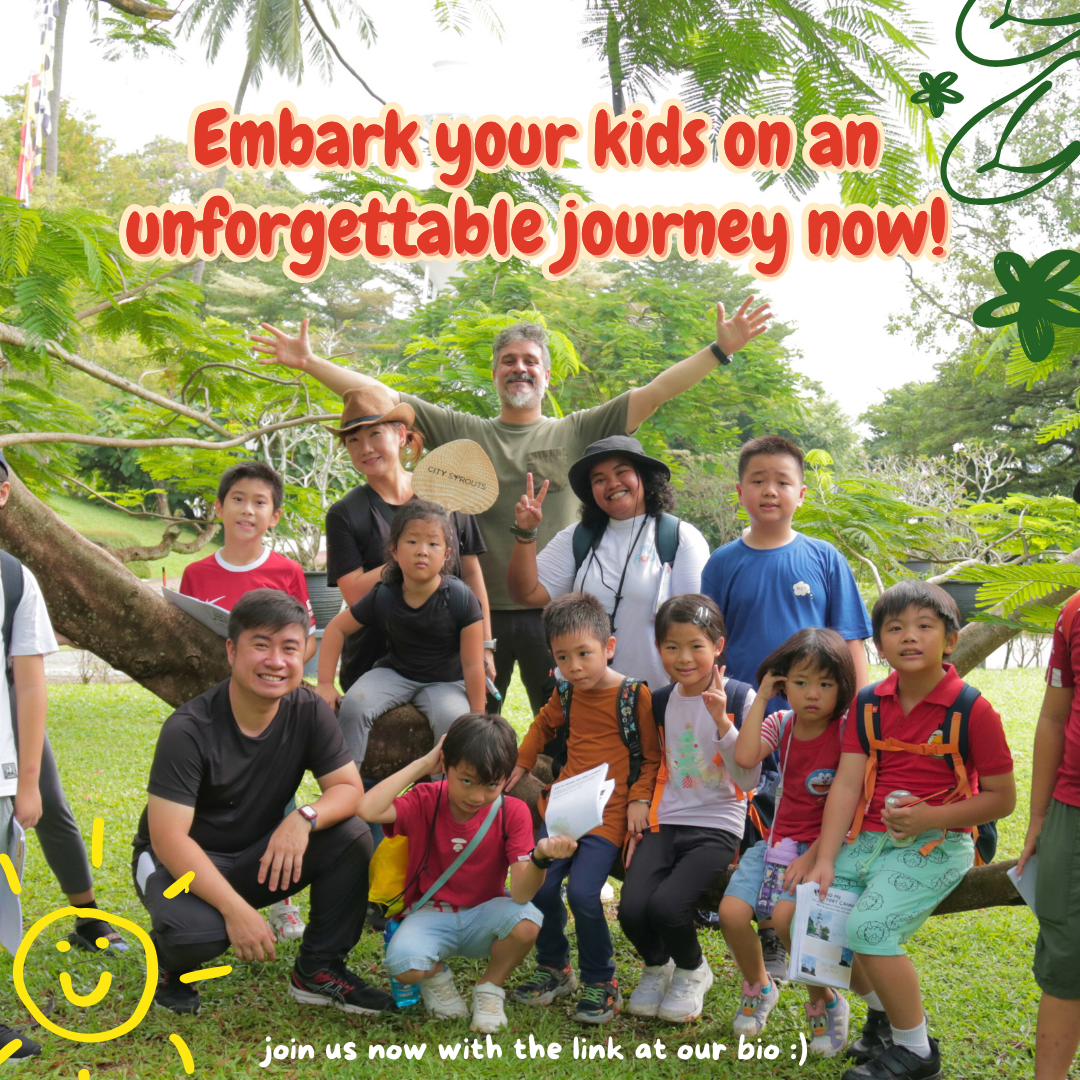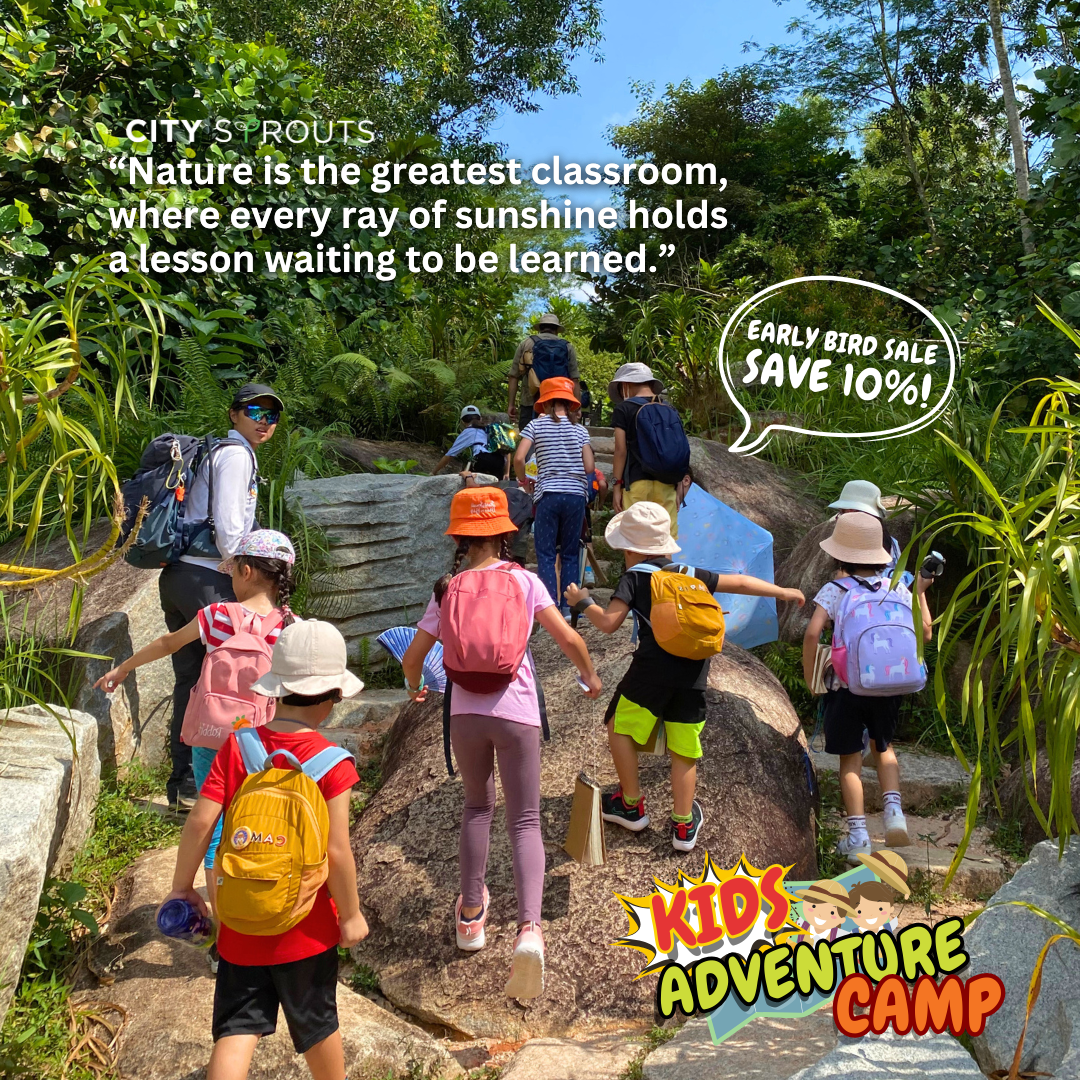 Adventures For You To Choose From
Amber Adventure @ Henderson

In Amber Adventure, kids will dive into the world of survival skills. Building a fort, foraging through the wilderness and the art of igniting a flame for outdoor cooking. Learn the invaluable skill of sourcing food from the environment, discovering edible plants, herbs, and trees that surround them.

Cloud Quest @ Bukit Timah

The skies is the limit at Cloud Quest, where nature meets aviation in a unique blend of adventure and ecotherapy! This one-of-a-kind camp is designed for young enthusiasts who have a passion for both clouds and aviation, all while embracing the therapeutic benefits of connecting with the natural world.

Island Escapade @ Punggol

Take trip to our newest camp grounds at Punggol and explore our wetlands. Come face to face and interact with local wildlife while gaining expert biodiversity and nature insights! 
Camp Schedule & Itinerary
Amber Adventure @ Henderson
Cloud Quest @ Bukit Timah
Island Escapade @ Punggol
FAQs: Don't Worry! Your Every Concern Addressed!
What is the instructor to children ratio?

Our instructor to children ratio is 1:3. As the safety and well-being of your child is our utmost priority,we ensure that a first-aid certified instructor is present at all times throughout the camp.
Where is the meeting and pick-up point?

For your convenience, location for both meeting and pick-up point is the same. For Amber Adventure, the meeting and pick-up location is City Sprouts Henderson. For Cloud Quest, the meeting and pick-up point is Sky Sprouts Bukit Timah. For Island Escapade, the meeting and pick-up location is City Sprouts Punggol. Do refer to Our Spaces for the full address of our different locations.
Is transportation provided?

Transportation is provided only on Excursion Days (Day 2 and 3). A chartered bus will depart from the main meeting location to the excursion location and back.
Will there be food provided?

As this is a day camp from 8am to 12:30pm, food will not be provided. You are encouraged to pack snacks for your child as there will be regular snack and water breaks throughout the camp.
Hear From Our Parents!
"Reina had the most wonderful time and came home excited with new sketches, sticks, unique leaf each day. She loved her time in nature with her friends building shelter. The skills she learnt will be invaluable" - Parent
Our Little Explorers In Action!
Can't make it on these dates?
We can also host for a private group of 8 children. Simply email us your preferred dates to hello@citysprouts.com.sg and our team will check on our availability for your dates.
Contact Us
Refund Policy

A minimum number of participants is required for the programme to begin. A full refund will be refunded in the form of credits should the minimum number is not met. There will be no refund for cancellation two weeks prior to the date of the programme.

PDPA Notice

Please note that photos and videos may be taken during activities for the purpose of use on social media,  in e-newsletters and on our website. All media will not be used for commercial purposes, or in any manner that would exploit or cause malicious representation.

Indemnity Notice

As a participant, you acknowledge and waive all liabilities and claims that may arise from risks of injury, risks as a result of an encounter with the animals & plants, heat related injuries and illness including but not limited to heat exhaustion, sunburn and dehydration.