Activities at NParks Parks Festival 2023 @ West Coast
Discover the beauty of nature and the power of community at our NParks' Parks Festival 2023! This joyous celebration brings together people of all backgrounds to foster a deeper connection with the environment, nurture our green spaces, and build a stronger, more resilient community.
Take your pick from our wide array of workshops: 
🌿 Artful Greenery: Kokedama Workshop | 10am - 11am: Unearth the world of Kokedama, a cherished Japanese gardening tradition that marries artistry with nature. Immerse yourself in this serene and mindful experience that invites you to craft your very own suspended moss ball - a unique piece of living art.

🤝 Growing for Good: Sunflower Planting | 1 pm - 2pm: Be part of City Sprouts' Sprouting for Good initiative where we aim to sprout joy through seeding 500 sunflowers! These delightful blooms will be donated to various beneficiary groups to surprise their residents with joyful sunflower stalks!
Open to young and old, join in for a morning of seeding joy Expert horticulturists will guide you through each step, from selecting the perfect soil mix to fostering healthy growth. By the end of the workshop, you'll have a healthy sunflower pot to take home and nurture or choose to have City Sprouts to care for your sunflower seedling.
🪱Wiggly Wonders: Vermicomposting for Kids | 4pm - 5pm: (Children 6 years and below joins for free with a paying adult) Wiggly Wonders is a fun-tastic family workshop on vermicompost where parent-child pairs will have hands-on, tactile fun in transforming regular food waste into nutrients-rich compost. Participants will learn how to create and bring home a DIY vermicomposting bin.

Highlights include:

Meet the Worms: Introduce your children to these wiggly wonder-workers!
Discover the fascinating life cycle of worms and how they play a vital role in breaking down food woste and creating valuable compost.
Interactive Learning: Through engaging octivities and demonstrations, your family will learn the art of vermicomposting together. From setting up a worm bin to understanding the do's and don'ts of composting, your kids will be captivated by the natural processes at play.
When and Where:
🗓️ Date: 23 to 24 Sept 2023
🕒 Time: 10am - 6:00pm
📍 Location: West Coast Park, W Coast Ferry Rd Singapore 126978
Regular price
Sale price
$9.00 SGD
Unit price
per
Sale
Sold out
Share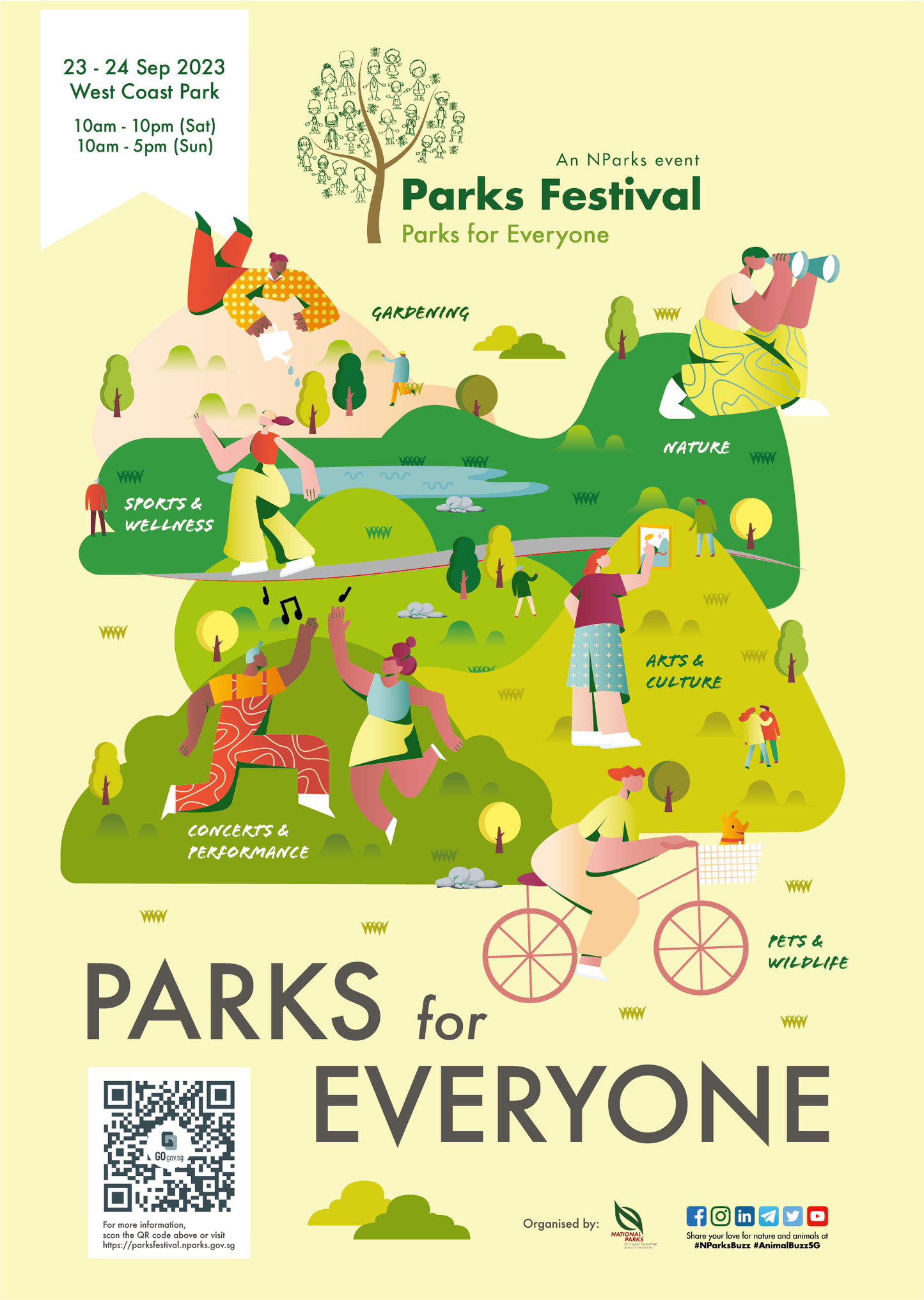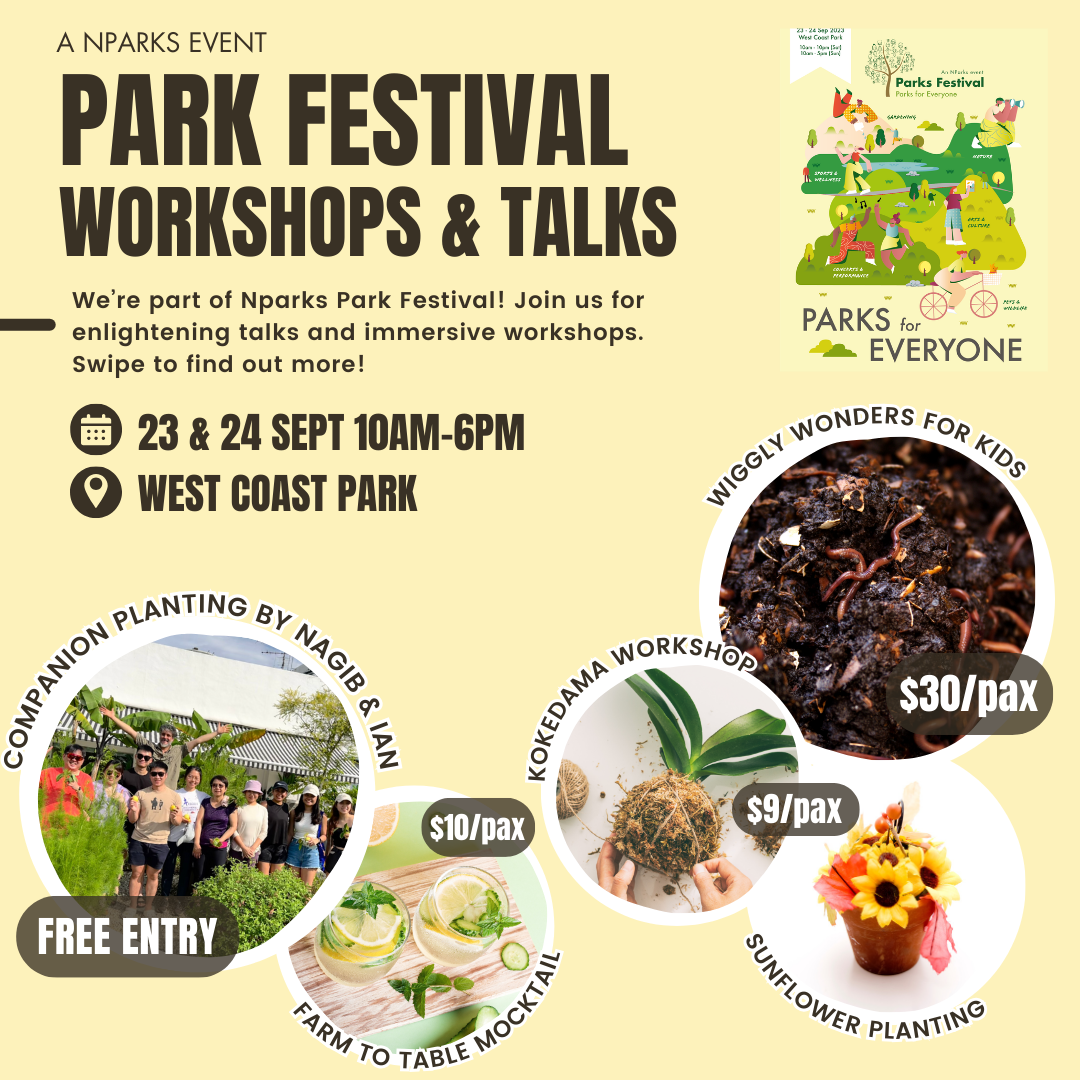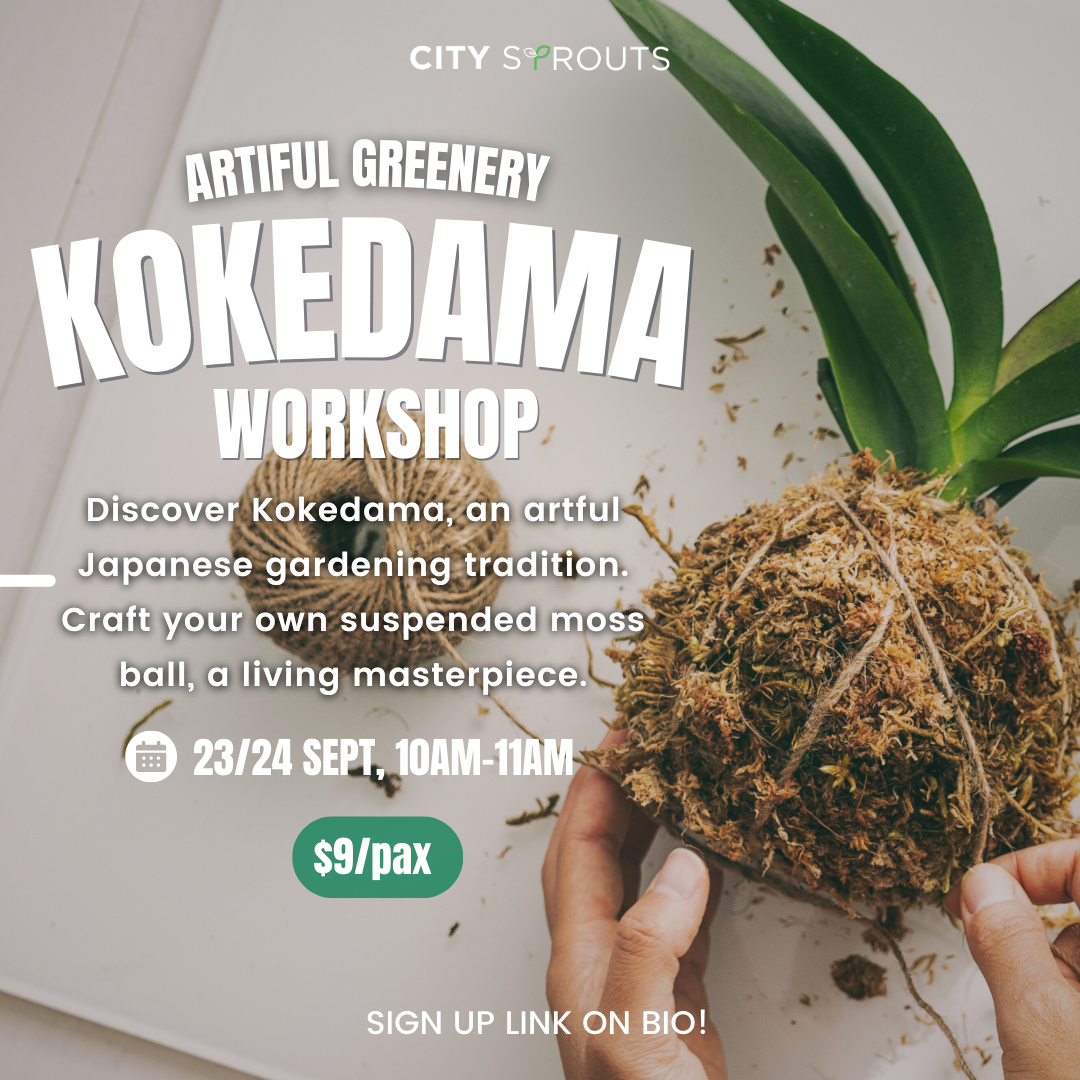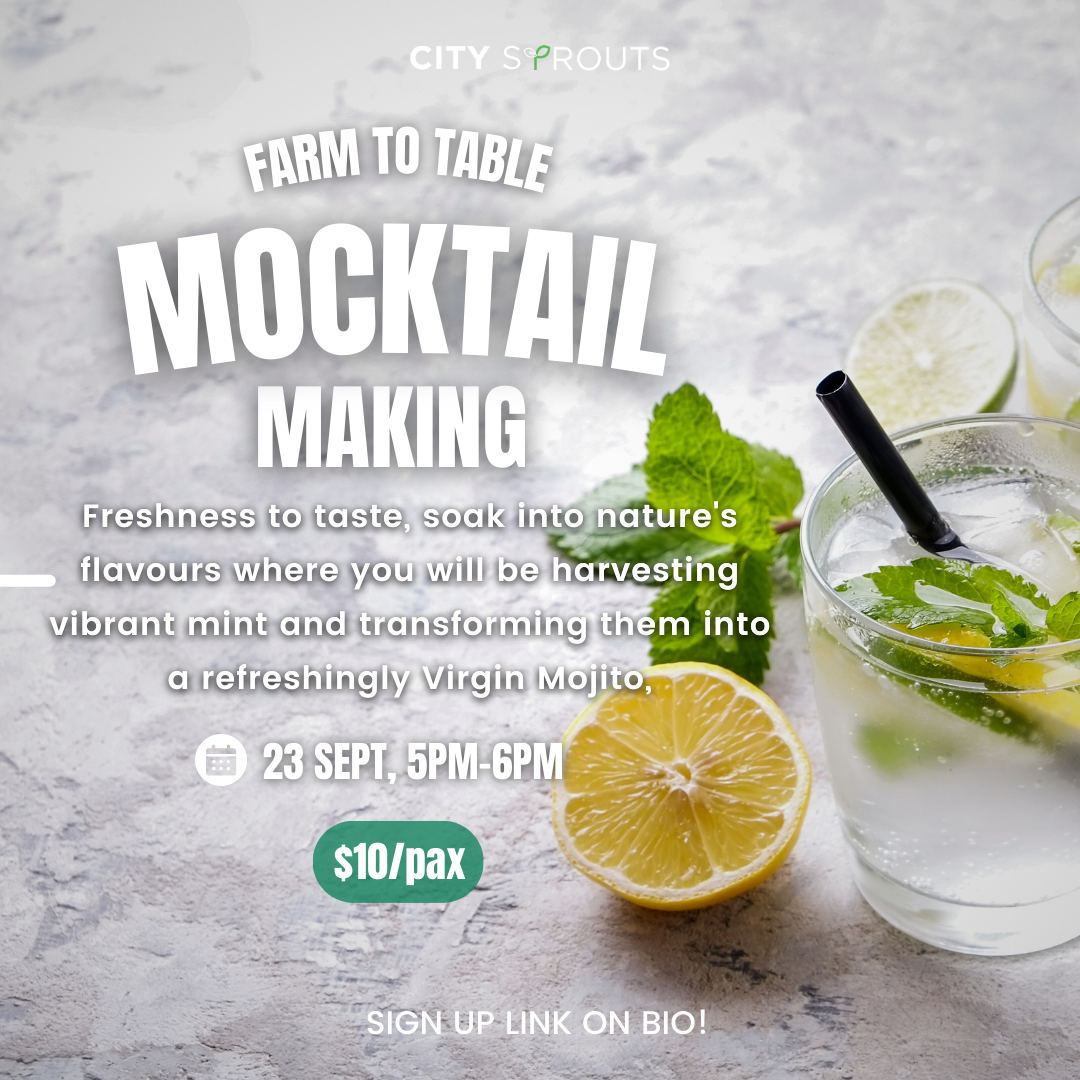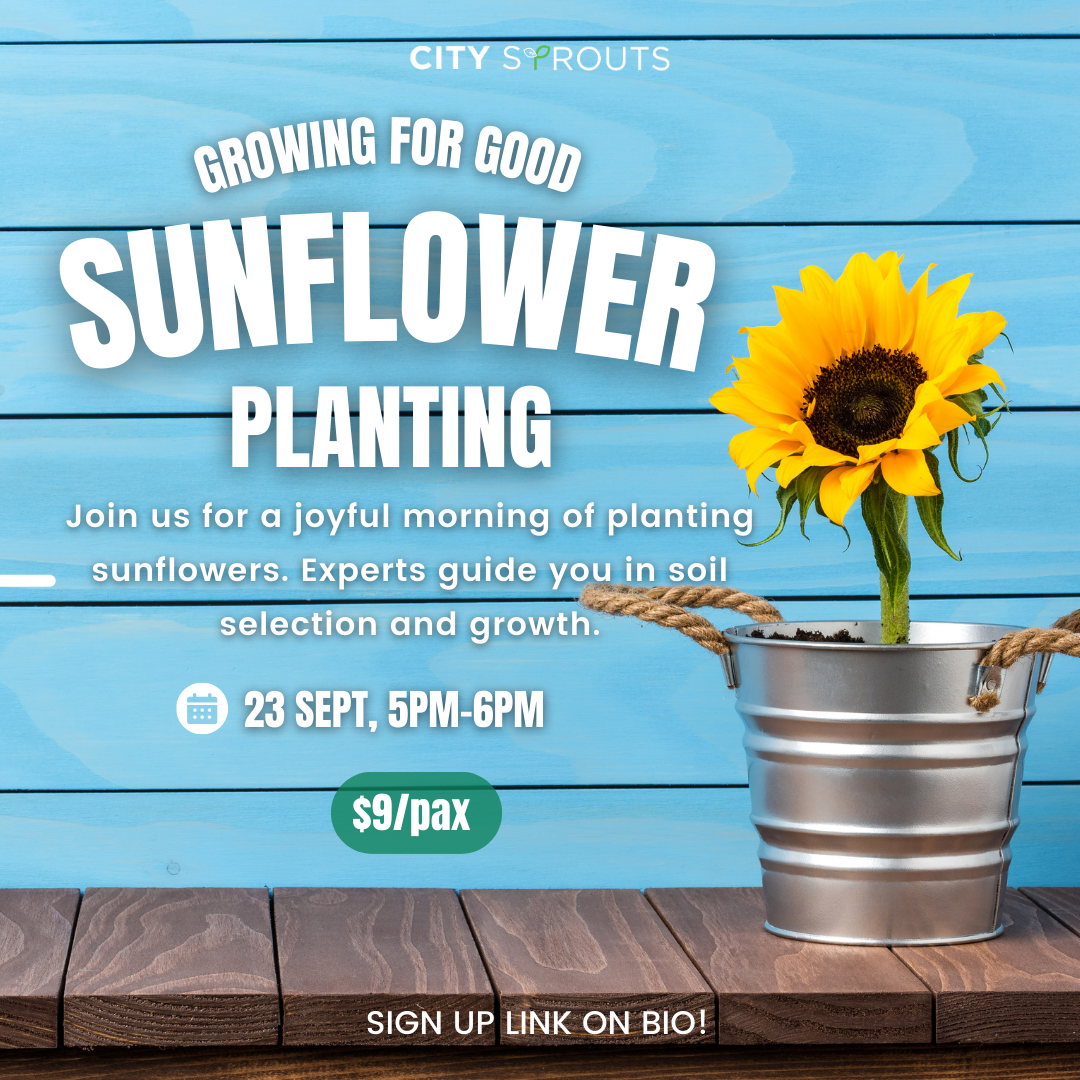 Refund Policy

A minimum number participants is required to proceed with the session. Full refund will be provided if minimum number is not reached. Credit for the value of your ticket will be issued in the form of a coupon for any other reasons.

PDPA Notice

Please note that photos and videos may be taken during activities for the purpose of use on social media,  in e-newsletters and on our website. All media will not be used for commercial purposes, or in any manner that would exploit or cause malicious representation.

Indemnity Notice

As a participant, you acknowledge and waive all liabilities and claims on the following:
· Risks of injury from the activity.
· Risks that may arise as a result of an encounter with the presence of animals & plants.
· Heat related injuries and illness including but not limited to heat exhaustion, sunburn and dehydration.